What Is Ceremonial Cacao?
The cacao tree, native to South and Central America, produces pods containing up to 50 cacao seeds (cacao can be used interchangeably with cocoa).
Although quite bitter, raw cacao beans feature a rich chocolate flavor that can be combined with other ingredients to make a range of products, including traditional chocolate bars, cacao powder, cacao nibs, and more. Products containing at least 70% cacao are considered the best way to enjoy the health benefits of cacao.
History of Cacao in Ancient Ceremonies
The word "cacao" is derived from the Mayan words "Chokola'j" and "Ka'kau". Combined, these words mean "drink together". Mayans believed cocoa pods were a direct gift to humanity or a "Food of the Gods" that helped restore balance and divine connection.  In ancient ceremonies, cacao was used at marriages, births, funerals, baptisms, sacrifices, and more.
Health Benefits of Cacao 
Along with its beloved taste, cacao offers a wide range of benefits thanks to its high content of vitamins, minerals, and antioxidants.
Here's a look at some of the nutrients and health benefits of cacao:
Rich in antioxidants such as flavonoids, catechin, procyanidins, and epicatechin (a group of polyphenols)
High in fibre
Contains healthy fats
May help reduce inflammation
Supports a healthy gut with prebiotics that help the good bacteria in your gut flourish
Supports heart health
May reduce the risk of a variety of health conditions
Promotes the release of nitric oxide to keep blood vessels healthy
Contains potassium, copper, magnesium, zinc, phosphorus, and manganese
Helps support healthy blood sugar levels
Supports healthy cognitive function, possibly due to its caffeine and theobromine content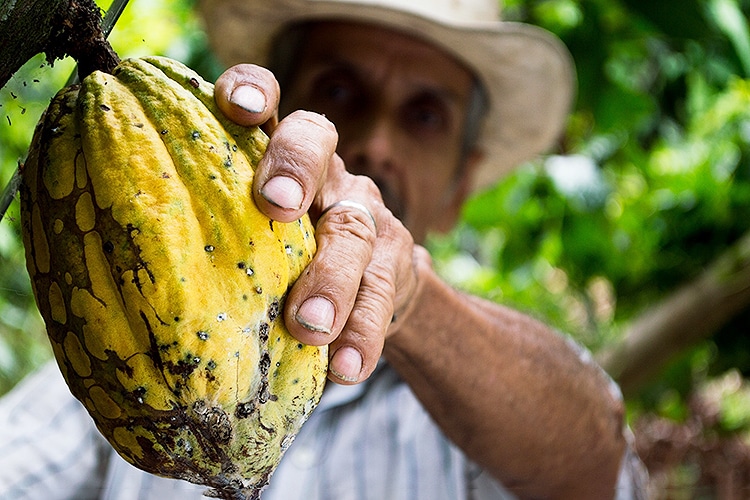 Origin and Production of Cacao
Today, cacao is most commonly grown and harvested in:
Belize
Costa Rica
El Salvador
Guatemala
Honduras
Nicaragua
Panama
Ecuador
Columbia
Peru
Traditionally, the cacao pods are harvested from the trees and cracked open to remove the seeds. The cacao seeds are then fermented to further enhance their notorious chocolate flavor. After fermentation, the seeds are dried in the sun, reducing their moisture content and deepening them to a rich reddish-brown colour.
Our Ceremonial Grade Cacao Paste is made by hand peeling the husks and stone-grinding the cacao seeds into a paste which is set into a block. This is the cacao block you will receive in its pure, traditional form – nothing added, nothing removed. This is the same form used by ancient civilizations for thousands of years in ceremonies and celebrations.

Choosing High-Quality Cacao
Our Maretai Organics Organic Ceremonial Grade Cacao Paste is a pure form of unadulterated cacao, sourced directly from the Mesoamerican region. In this pure form, it can be used as natural dark chocolate, as a chocolate drink, or within Ceremonial Cacao.
Vibrant Souls has sourced and used cacao for many years, establishing a close relationship with growers who use sustainable agricultural practices and are certified by fair commerce and social development programs. Being the purest form available, our Cacoa is ideal for both Ceremonial and personal use.
Why Choose Cacao Paste Over Cacao Powder
That's easy, Cacao Paste has very minimal processing, where cacao powder is processed and heat-treated to remove the fat from the powder.  During this process, it can be stripped of its active compounds & nutrients.  Cacao paste contains the full spectrum of antioxidants, minerals & nutrients making it a much healthier option, it is produced by grinding and cold-pressing whole cacao beans into a paste or liquid.
Cacao powder is made from what is left of the cacao paste/liquid when the fat and the cacao butter have been removed.
How To Use Cacao for a Ceremonial Drink
To use our Organic Ceremonial Grade Cacao Paste within a personal ceremony, grind or shave the cacao paste block and blend with hot water. Next, stir until the cacao is dissolved into a thick consistency.  Slowly add small amounts of water to obtain the fluidity or dilute the concentrated flavor to suit your preference. Then, perform the following steps to complete your Cacao ceremony:
Be present and pay attention to what is around you and tune in to how you are feeling
Set an intention (clarity, healing, empowerment, confidence, inviting positive energy into your life)
Drink your cacao with deep appreciation and reverence as you focus on your intention

Cacao Recipes and Uses
If you are looking for a more child-friendly or everyday option for enjoying the benefits of cacao, here are some other ways to use this superfood:
Make the thick cacao paste as described above and combine it with a warm milk alternative (soy, almond, or coconut) to make a natural, healthy hot chocolate
Use some cacao shavings from your block and add them to homemade granola or trail mix
Add cacao shavings to a smoothie or smoothie bowl
Toss cacao shavings onto oatmeal and drizzle it with honey and fresh fruit for a nutritious, warming breakfast
Add cacao shavings to pancake batter for a boost of chocolate flavor and nutrients
Top a bowl of yoghurt with cacao shavings
Mix cacao shavings into muffins rather than chocolate chips
Add to a pot of chili for a deeper flavor

Cacao Protein Ball Recipe
Ingredients:
12 dates
1 cup almond meal
1/2 cup shredded coconut
1/3 cup coconut oil
1/3 cup cacao paste (shaved or grated)
1/3 cup extra shredded coconut for rolling
Method:
Place dates in a medium bowl and cover with water.
Stand for 1 hour. Drain and discard seeds.
Process dates, almond meal, shredded coconut, coconut oil, and cacao until the mixture comes together.
Place remaining coconut in a shallow dish.
Roll level tablespoons of mixture into balls. Roll in coconut to coat and enjoy.
Learn More About Supporting Wellness With Products from Vibrant Souls 
Vibrant Soul's collection of smudging products, candles, incense sticks, and energizing products and accessories is designed to help you disperse negative energy from your life, purify your surroundings, and support overall well-being.
By using one of our stunning products, you can help cleanse the old, remove blocked energy, and purify your mind, body, and spirit. For personalized product recommendations, we invite you to reach out to our caring team. We would be honored to help you feel more balanced, self-empowered, and uplifted.