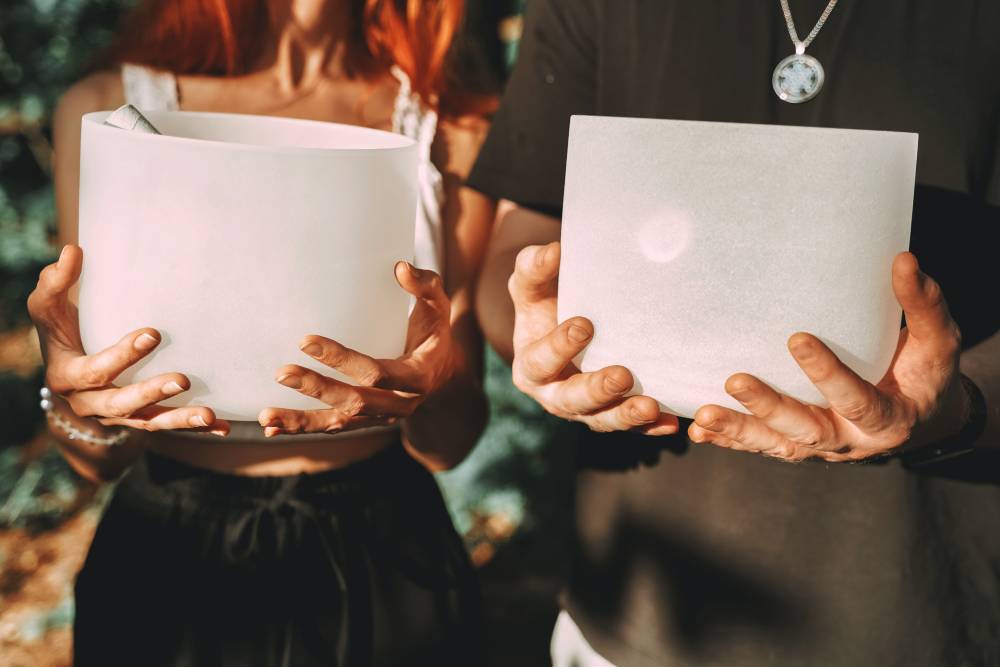 Have you ever experienced the profound effect sound can have on your mood, well-being, and mindset? Perhaps you were struggling to push through a tough workout or maybe you were on your way home from a rough day at work and a favourite or upbeat song instantly motivated you and lifted your mood.
An increasing number of people find that certain vibrations, sounds, and rhythms can offer powerful benefits such as an improved sense of well-being, healing support, and a reduction in stress and anxiety.
Recognition for sound therapy is growing and while it may take some time to get used to the idea of bowls being something other than for food, sound therapy is worth learning more about. Here, we'll look at the positive benefits sound can have on the mind and body and easy ways to experience sound for improving yourself, others and the mood.
What Is Sound?
In its most simple form, sound is a series of vibrations or waves that ripple through the air. Everything in existence vibrates (from the food you eat to the furniture you sit on to the trees and plants around you), making us surrounded by sound at all times — even when we think it is silent. Since sound is all around us, let's look at the potential benefits of the right vibrations.
What Is Sound Healing?
Sound healing is founded on the long-held idea that the right sounds have the power to produce a positive effect on our mind and body.
Sound therapy is a type of subtle-energy therapy within the field of vibrational medicine. It involves using dedicated objects, tools, or the human voice to promote healing and positive energy.
The idea of using sound as a tool is nothing new. Ultrasound has been used for decades and chants have existed for thousands of years.
Whereas ultrasound therapy uses highly focused, fast vibrations, sound therapy uses gentle vibrations to help balance the body's vibrations and return the body to a state of calm.

Potential Benefits of Sound Healing
Supporters of sound therapy have reported a range of benefits, including:
A reduction in pain or discomfort
A positive shift in mood and mindset
An improvement in sleep patterns and overall quality of sleep
An increase in feelings of clarity
Improved focus
A boost in the overall revitalisation
An improvement in overall well-being
Improved connectedness
Support for personal transformation
A reduction in tension and stress
Reduced respiratory rate, relaxes brain-waves patterns, and lower variability in heart rate
A focus on the body as a unit rather than just healing one part or the other
What Are Some of the Types of Sound Healing?
Here is a look at some common sound healing techniques to try.
A Peaceful Walk In Nature – Waves lapping at the shore. A summer thunderstorm. Leaves blowing in the wind. Birds chirping. Nature is full of relaxing sounds. Being outside and taking a walk on a nature trail or a beach is one of the easiest ways to enjoy the powerful effects of sound therapy. If you've had a particularly stressful day, make a point to get outside and be surrounded by the calming sounds of nature.
Singing Bowls – Singing bowls, often made from quartz crystal or metal, produce rhythms when their edges are struck with a felt-tipped mallet. These calming vibrations have been reported to help slow down breathing, calm the heart rate, and promote a deep sense of well-being and relaxation.
Humming – Humming has been found to offer a variety of benefits, including helping to lift your mood and clear your head. It may even help keep your sinuses healthy and clear! So think of your favourite tune and hum away!
Tuning Forks – Tuning forks originated as a tool to tune musical instruments to the right pitch. Tuning forks have also been used as a tool by orthopaedists to detect fractures in larger bones.
Another use of tuning forks is sound therapy. Using tuning forks, sound therapists use the vibration to help channel energy to different parts of the body to promote energising and healing. These vibrations are believed to help support relaxation, balance, and positive energy.
Classical Music – Classical music has been found to help increase the rate at which synaptic connections develop in the minds of young children. It also helps promote creativity and joy in adults. Some even believe it may offer positive benefits for physical conditions.
Chanting – Have you ever wondered why yogis chant "Ommmm" during their yoga sessions? It is a form of meditation and has been proven to provide benefits such as improved circulation, boosted focus, alleviated stress, stabilised heart rate, decreased blood pressure, increased mental clarity, and an increase in the production of endorphins.

Do You Want To Learn More About the Healing Power of Sound?
To learn more about the healing power of sound and which of our products would complement your wellness routine, we welcome you to reach out to our caring team for product advice and support. We would love to help you experience the many healing benefits of sound.